EYE CARE INFORMATION FOR HONG KONG PATIENTS
Learn how to manage eye problems and eye conditions for a happier every day.
Better Protection for Your Eyes
At Swisscoat, we want everyone's eyes to stay healthier for longer, and this starts with proper care at home, at work and with your specialist. This is why we offer advice and guidance to our Hong Kong patients who want to protect their vision. Read through our information page to find out more.
How can I protect my eyes every day?
Protect from the sun: The sun's ultraviolet rays can have a huge impact on your eye's health, so, on sunny days, you should always protect them. Wear sunglasses when you can, or wear a brimmed hat that shades your head.
Good lighting when reading and writing: Poor lighting can cause your eyes to tire out quicker, and digital screens that are brighter than your environment can confuse or tire your eyes further, as your eyes are constantly adjusting between brightness.
Take breaks on the computer: For professionals that spend a long time on the computer, it's important to take breaks every hour. These breaks don't mean switching to another screen, but actual five minutes breaks going for a walk or looking out the window. This will prevent computer vision syndrome.
Get regular check-ups: Regular check-ups will ensure that, when there is a sign that's of concern, it's treated as soon as possible. Many conditions only worsen when left untreated, and some can even result in permanent vision loss and blindness.
Check your family history: Checking your family history can help you protect your eyes from any conditions or diseases that are common in you familiar, stopping it long before it becomes a concern.
Book an appointment with your specialist today
Our information section allows you to read through specialised care tips for particular conditions or diseases. Read through our categories to discover how you can care for your eyes, ensuring your vision stays better for longer. Book an appointment with Swisscoat today for a general eye exam, or to book for treatment or testing of any specific conditions.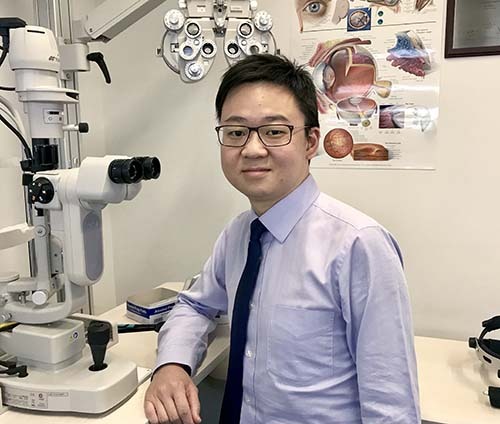 Vision Center Location
ADDRESS
G/F., Yuen Yick Building, 27-29 Wellington Street, Central, Hong Kong

ENQUIRY/APPOINTMENT
+852 3579 4763

FAX
+852 3579 4765

E-MAIL
[email protected]

OFFICE HOUR
Monday to Saturday (10:00-20:00)
Sunday and Public Holiday (11:00-18:00)
Eye Care Clinic Location
ADDRESS
23/F Somptueux Central, 52 Wellington Street, Central, Hong Kong

ENQUIRY/APPOINTMENT
+852 3971 0873

FAX
+852 3971 0875

E-MAIL
[email protected]

OFFICE HOUR
Monday to Friday (10:00-19:00)
Saturday (10:00-18:00)
Consultation by appointment on Sunday and Public Holiday